Return of the "man" who changed me forever...
Well the other day as I was looking through the television listings...I came across something that changed my life extremely from when I was 16 until I was 20. 
Yes...he rocked my world, he showed me the way...he opened up my mind...he gave me a purpose...
Who was this person you ask??? It was....
.
.
.
.
.
.
.
.
.
.
.
.
.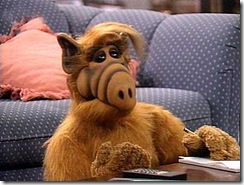 Yes!!! That is right...Alf is in reruns on television.  Now my life is complete!